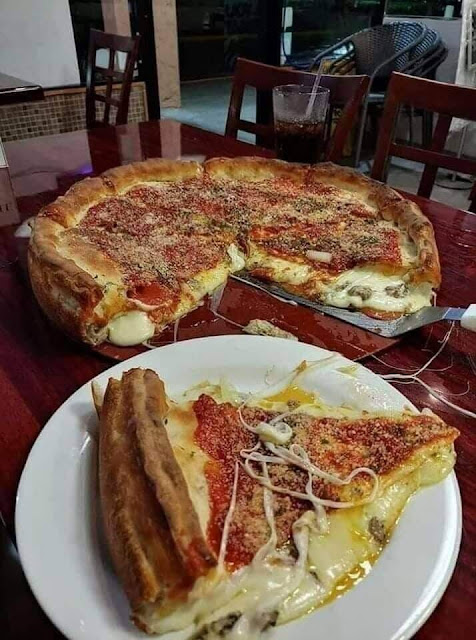 A pizza made in the USA with a very precise order to be respected for the elements of the garnish.
* Ingredients :
+Dough
° 1 C. to c. sugar
° 2 sachets of dry baker's yeast
° 24 cl of water
° 500 g flour

° Sauce 3 tbsp. to s. tomato paste
° 600 g of mozzarella
° 200 g of bacon
° 4 cloves of garlic
° 2 onions
° 1 C. to s. oregano
° 0.5 tsp. to s. basil
° 2 boxes of crushed peeled tomatoes
* Preperation :
1
Pour the flour into a bowl. Make a well. In small bowl, blend water, yeast also sugar. Pour this mixture in the center of the flour and mix. Let rise for 1 hour in the shelter.
2
Grate 400g of mozarella and set aside in a bowl. Cut the rest into thin strips. Place the bacon in a dry pan and reserve the bacon, taking care to drain them.
3
In a saucepan, pour 2 tbsp of olive oil, add the finely chopped onions and the crushed garlic, sweat. Adding crush tomatoes also tomato puree.
4
Roll out the pizza dough with a rolling pin and place in a fairly high pie pan. Bake for 10 minutes in an oven heated to 180 ° C or T. 6.
5
Take out of the oven, arrange the mozzarella slices, add the bacon, then add the grated mozzarella. Add the herbs to the pan, mix and pour over the pizza. Sprinkle with grated Parmesan. Bake for 30 minutes in the oven.
Enjoy!