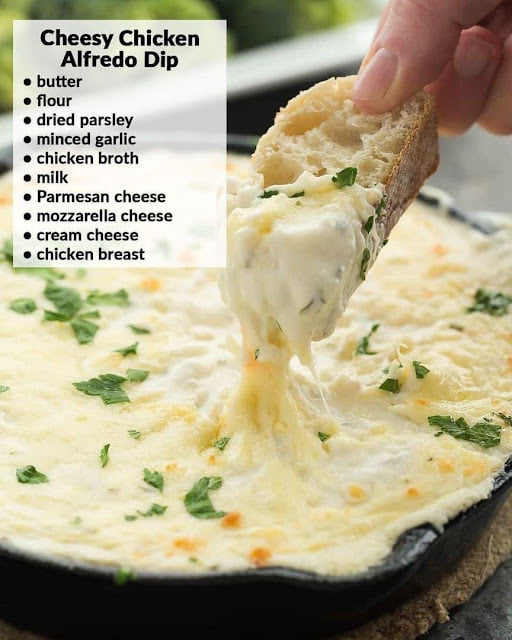 cheesy chicken alfredo dip
Chicken, cheese, sour cream, cream cheese…this dip has it all!
Perfect as an appetizer, snack or to accompany the evening of sports matches…
*Ingredients :
°1 fresh sandwich bread
°½ cup (168 g) garlic butter, melted
°1 1/2 cups (400 grams) sour cream
°1 cup (225 grams) soft cream cheese
°1 1/2 cups (190 grams) boneless chicken
°8 slices bacon, cooked and crumbled
°1 teaspoon (5 ml) chopped parsley
°½ cup (50 g) cheese-Parmesan
°1 cup (100 grams) shredded mozzarella cheese, halved
°1 teaspoon (5 ml) garlic powder
°1 teaspoon (5 ml) pepper
*Preparation:
Heat the oven to 350°F (180°C).
Flatten bread slices with a rolling pin, then brush with melted garlic butter on each side. Cut into 4 triangles and place on a baking tray.
Cook for 20 minutes, flipping halfway through, until golden brown and crunchy.
In a large bowl, combine sour cream, cream cheese, chicken, bacon, Parmesan, half of the mozzarella, parsley, pepper, and garlic powder.
Place in a baking dish, sprinkle with the rest of the mozzarella cheese and cover with tin foil.
Cook for 20 minutes, before uncovering the lid and grilling for 5 minutes.
Garnished with fresh parsley and served with garlic bread!
Enjoy !