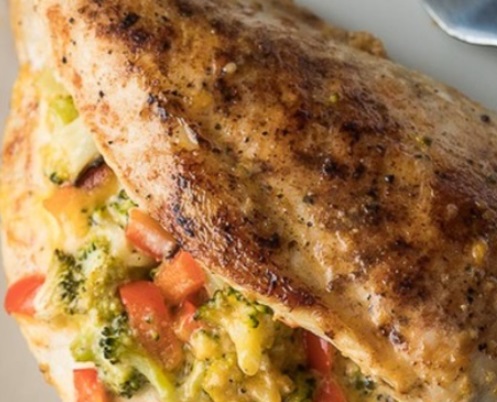 Cheesy Broccoli Stuffed Chicken Breasts!!!
Chicken breasts with succulent, crispy edges filled with a delicious, creamy mixture of cheddar, cream cheese, and broccoli. Broccoli Cheese Stuffed Chicken Breasts are opulently flavorful. Simple to prepare and ideal for a substantial evening main.
The good thing about this broccoli-cheese-stuffed chicken breast recipe is that it just takes about 45 minutes in total, and this includes slicing, stuffing, roasting, and baking the chicken.
Simple and easy ! My whole family loves this recipe so much. If it were for them, I'd be making this every day! Give it a shot, you'll love it!To Make this Recipe You' Will Need the following ingredients:
Ingredients :
4 boneless, skinless chicken breasts
1 tablespoon olive oil
2 teaspoons Italian seasoning
1 teaspoon garlic powder
1/2 teaspoon onion powder
2 cups broccoli florets, chopped
1 tablespoon water
1/2 cup low-fat shredded cheddar cheese
1/4 cup low-fat cream cheese
1 tablespoon Dijon mustard
1 clove minced garlic
Salt and Pepper
Instructions :
To steam the broccoli : Cutting broccoli florets into small pieces. Putting all of broccoli in a micro-wave-secure bowl also about 2 tsps of water. add the water. Cover with plastic wrap and microwave on high heat for 2-3 minutes. Alternatively, steam it on a stove or boil it in boiling water for 1 minute.
Employing a heavy knife to cutting every chicken breast to form a pocket. Not to pause cutting about 1/2 inch from ends and side . Season the chicken breasts with Italian seasoning, garlic powder, paprika, salt, and pepper.
In a large bowl, combine steam, chopped broccoli, paprika, garlic, cheese, salt, and pepper; Sit apart . Spoon mix into every chicken breast equally .
Heaat oven to 441 degrees F . Heat 1 tablespoon of oil in a large cast iron skillet or oven-safe skillet over medium-high heat. Add chicken breasts and cook 2-3 minutes per side or until golden. Cover with aluminum foil and transfer to a preheated oven for 15-20 minutes or until fully cooked.