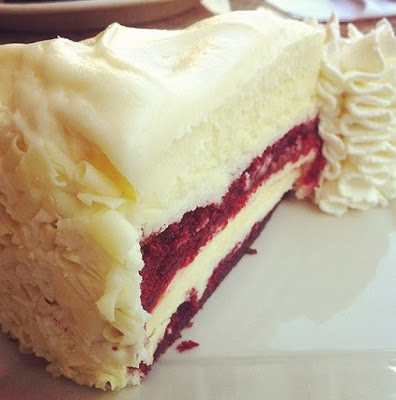 CHEESECAKE FACTORY RED VELVET CHEESECAKE CAKE
Ingredients :
CHEESECAKE:
Two (8-ounce) packages cream cheese, at room temperature
⅔ cup granulated white sugar
pinch of salt
2 large eggs
⅓ cup sour cream
⅓ cup heavy whipping cream
1 teaspoon vanilla extract
RED VELVET CAKE:
2½ cups all purpose flour
1½ cups granulated white sugar
3 tablespoons unsweetened cocoa powder (not Dutch process)
1½ teaspoons baking soda
1 teaspoon salt
2 large eggs, at room temperature
1½ cups vegetable or canola oil
1 cup buttermilk
¼ cup (two 1-ounce bottles) red food coloring
2 teaspoons vanilla extract
2 teaspoons white vinegar
CREAM CHEESE FROSTING:
2½ cups powdered sugar, sifted lightly to remove any lumps
Two (8-ounce) packages cream cheese, at room temperature
½ cup unsalted butter, at room temperature
1 tablespoon vanilla extract
How to make it :
Prepare the cheesecake layer: Preheat oven to 325 degrees F. Place a large roasting pan on the lower third rack of the oven. Place a kettle of water on the stove to boil. Spray a 9-inch springform pan with nonstick spray and line the bottom with a round of parchment paper. Wrap a double layer of foil around the bottom and up the sides of the pan (you want to seal it so the water from the water bath doesn't seep into the pan). In a large bowl, use an electric mixer to mix the cream cheese- blend until it is nice and smooth and creamy. Mix in sugar and salt and blend for 2 minutes, scraping down sides of the bowl as needed. Add eggs, one at a time, blending after each addition. Finally, mix in sour cream, whipping cream and vanilla. Mix until smooth. Pour the batter into the prepared pan. Set the pan into the roasting pan in the pre-heated oven. Carefully pour the hot water from your kettle into the roasting pan (it will fill the pan surrounding the cheesecake). Pour enough water so that there is about an inch of water coming up the foil along the sides of the cheesecake pan. Bake the cheesecake for 45 minutes. It should be set to the touch and not jiggly. Remove the cheesecake from the roasting pan and let it cool on a wire rack for at least an hour. When it has cooled, place the pan into the freezer and let the cheesecake freeze completely. This can be done in a couple of hours- or overnight.