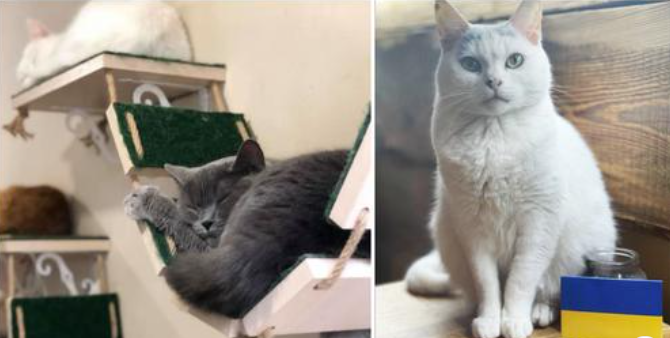 Cat Cafe in Ukraine refuses to close doors despite Russian invasion, continues to care for 20 cats
The world continues to watch with shock and sadness as Russian forces invade Ukraine. But amidst the heartbreak, there have also been stories of inspiring resistance from the Ukrainian people.
And sometimes stories of courage come from the most unexpected places — like a "cat cafe," whose owners have refused to close despite the invasion, refusing to leave their cats behind.
Cat Cafe, in Lviv, is owned and operated by Serhii Oliinyk, who runs the cafe with a small staff of friends — along with 20 cats, who visitors come to see and spend time with while having a relaxing drink.
"The cats have also gotten used to these people, who help to take care of them and who play with them when there are few guests, because our fluffy residents love people's attention," Oliinyk told The Dodo.
But even as their city has been rattled by an escalating invasion of Russian forces and many Ukrainian citizens have been forced to flee, Cat Cafe has been one of the businesses that has refused to close.
They're still open for business, refusing to leave their country — and their beloved cats —behind.
"In this difficult and dangerous time, we are among the few who have dared to work," Cat Cafe wrote in a Facebook post.
In another post, they said they were keeping normal business hours and donating 20% of proceeds to the Ukrainian army.
In times of war, stories like this — of people continuing their business as usual and refusing to evacuate, even if it means a personal risk — can be inspiring. It's a symbolic way of defending one's way of life.
But keeping Cat Cafe open has another purpose: the staff wants to protect their beloved cats. Evacuating animals across the border can be a challenge, and for the cats, who have been with the cafe since they were kittens, it's the only life they've ever known.
"They are like family," Oliinyk told The Dodo. "We realized that we would never leave our country, that this was the only place where we could see ourselves in the future."
In case of an emergency, the staff and the cats have a basement they can take shelter in, Oliinyk said, and while they've naturally had fewer customers, they've had people come in seeking "hot food and positive emotions."
ndeed, Cat Cafe has become a beacon of hope and positivity for people in Ukraine. CNN's Erin Burnett visited the establishment, and said that she saw a family who was evacuating the country, but seemed delighted by one of the cafe's cats who was walking on a wheel.
"You cannot look at that and not smile," Burnett said. "Today, any human being in this country needed the gift of a smile."
The owners told Burnett "our cats are brave."
The story of Cat Cafe has inspired people around the world, and they have received many donations, and in turn they have been donating to help the Ukrainian army.
"Each of you personally bought not only food and peace of cats, but also demonstrated the unity of nations in the fight against the aggressor!" Cat Cafe wrote on Facebook. "Praying for our soldiers!"
Thank you for looking after these cats, despite everything! We hope that the owners of the Cat Cafe and all their cat friends will continue to stay safe, and are praying for peace in Ukraine.
Share this inspiring news!