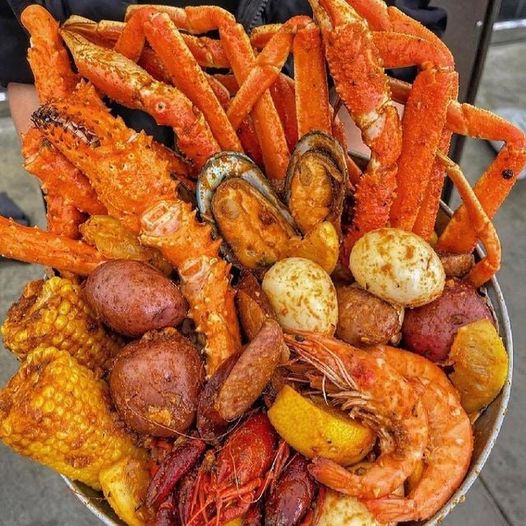 Ingredients :
½ cup unsalted butter, melted
8 oz andouille sausage, sliced
1lb shrimp, peeled and deveined
2 corn on the cob, husked and sliced into four
8oz baby red potato, roughly chopped
1 red onion, roughly chopped
½ cup chicken broth
1 tbsp cajun seasoning
2 tsp seafood seasoning
1 lemon, sliced into wedges
salt, to taste
black pepper, to taste
Instructions :
FIRST STEP:
Preheat an oven to 400F and prepare four sheets of aluminum foil on a work surface.
In a mixing bowl combine the melted butter, shrimp, andouille sausage, corn, potato, red onion, cajun seasoning and seafood seasoning.
SECOND STEP:
Toss the ingredients together to coat evenly in seasoning.
Transfer the cajun shrimp mixture evenly amongst the four sheets of aluminum foil.
THIRD STEP:
Place the ingredients in the centre of the foil, fold in the sides of the foil to form a tent shape.
Pour two tablespoons of chicken broth into each portion of cajun shrimp in foil then seal to create a tight seam in each foil packet.
FOURTH STEP:
Place the cajun shrimp in foil onto a baking tray and bake in the oven for 30 minutes.
Remove the foil packets from the oven and allow it to rest for 10 minutes, then carefully open the foil as the steam will be very hot.
FIFTH STEP:
Serve the cajun shrimp in foil hot with a fresh squeeze of lemon, season with additional seasoning to your taste.
Enjoy !!!