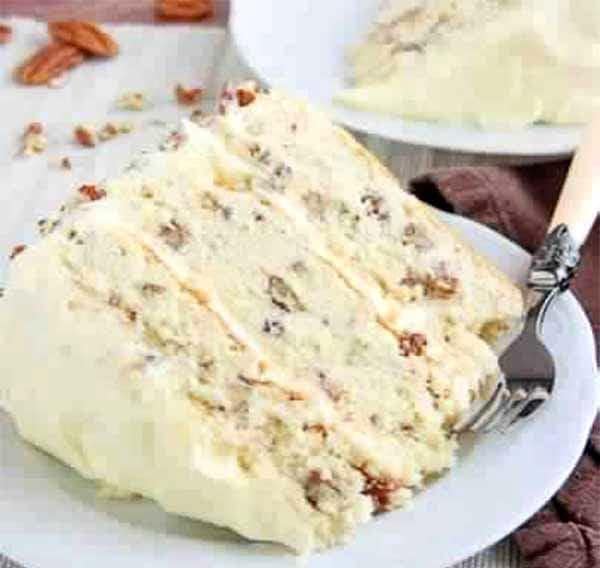 A pecan butter cake is the perfect holiday cake! It's full of buttery pecan flavor, has soft, smooth crumbs and is a perfectly moist cake (because dry muffins are the worst). It's a recipe you'll definitely want to add to your recipe box!
Not only is the cake itself totally delicious but it's topped with delicious cream cheese frosting, the cream cheese is simply the best.
Love the way the cream cheese balance the sweetness of the cake plus the buttermilk blended into the batter. It also only adds more depth of flavor, so the cake won't be boring at all.
It's loaded with pecans!
This cake features two mega cups of pecans wrapped in batter and half a cup of pecans garnish the top. And not only did I use any nuts, I also used Fisher Nuts because they are my favorite brand of nuts.
I chose to create this cake with Fisher Nuts because it is one of the only brands of nuts that is completely free of preservatives, and I also love that I can buy it in larger bags so I can get more for my money.
Pecans are the highlight of this cake, so you need to make sure that you are using the best quality and that Fisher is a brand you can always rely on!
* Ingredients :
° 1-1 / 4 cups soft, divided butter
° 2 teaspoons baking powder
° 2-2 / 3 cups chopped pecans
° 2 teaspoons of vanilla extract
° 3 cups all-purpose flour
° Salt 1/2 tsp
° 2 cups sugar
° 1 cup milk
° 4 eggs
° Freeze: or buy
° 8 to 8-1 / 2 cup confectioners' sugar
° 1 can (5 ounces) evaporated milk
° 2 teaspoons of vanilla extract
° 1 cup softened butter
* Directions :
Put pecans and a quarter cup of butter in a baking tray. Bake at 350 degrees for 21-25 minutes or until roasted, stirring frequently. Sit aside.
In a large bowl, cream the remaining sugar and butter until light and fluffy. Adding eggs, and beat well after every add. Add vanilla. Mix flour, baking powder and salt; Add to cream mixture alternately with milk, and beat well after each addition. My heart 1-1 / 3 cups of toasted pecans.
Pour into three greased and floured 9-inch flour. Round baking pans. Bake at 350 degrees for 25-30 minutes Cooedl for 11 min before removing from pans to wire racks to cool totaly.
To making buttercream, buttercream & confectioners' sugar in a large bowl. Add milk and vanilla. Beat until smooth. Stir in remaining roasted pecans. Spread the icing between layers, on top and sides of the cake. Yield: 12-16 servings
Enjoy !