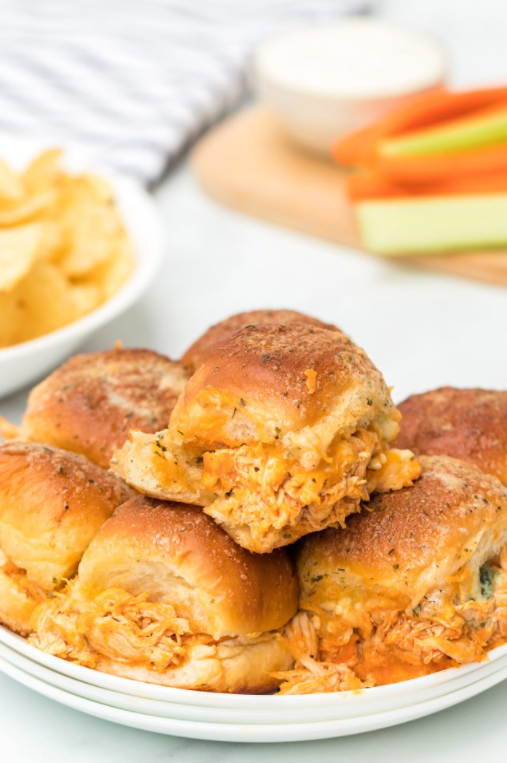 INGREDIENTS
3 cups shredded chicken
¾ cup buffalo sauce
7 tbsp butter divided
1 package Hawaiian Rolls
½ cup mozzarella cheese shredded
½ cup cheddar cheese shredded
¼ cup blue cheese crumbles
2.5 tbsp ranch seasoning (from a ranch dressing seasoning packet)
INSTRUCTIONS
Preheat the oven to 350 degrees. Line a small baking sheet with aluminum foil and spray with cooking spray.
Slice the Hawaiian rolls in half and place the bottom half on the baking sheet. Keep them together as a slab, do not break into individual rolls.
Melt 3T butter with ¾ cup buffalo sauce. Stir to combine the sauce and butter.
Add the chicken to the sauce and stir until the chicken is evenly coated.
Spread the chicken evenly over the bottom half of the rolls. Top with mozzarella, cheddar, and blue cheese.
Place the top half of the rolls on top.
Melt remaining 4 T of butter and stir in ranch seasoning. Brush Over the top of the rolls.
Bake 10-15 minutes, until cheese is melted. You can cover with foil if the top of the rolls are browning too quickly.
Cut rolls apart and serve warm.
NOTES
Storage:
To Store: Store the buffalo chicken and the rolls separately. If you have leftover assembled sandwiches, they will probably get soggy so try to only make as many sliders as you think will be eaten. Store leftover Buffalo Chicken Sliders in an airtight container in the fridge for up to 2-3 days.
To Freeze: You can easily double the recipe and freeze some for later. Cool completely, then store in an airtight container or freezer bag for up to 6 months.
To Reheat: To reheat, thaw completely then heat in the microwave or stovetop.
Tips:
I like to use shredded rotisserie chicken for convenience and to save time. Look for a "traditional" rotisserie chicken; not one that has added flavor, like lemon peppered chicken, or rosemary herbed chicken. The most basic is best.
Hawaiian rolls work great when making sliders because they are easy to slice in half without separating the buns, almost as if you have a sheet of bread for the top and bottom of your sliders.
I love green onion with buffalo chicken recipes –it adds a pop of flavor and crunch to the sliders.
NUTRITION
Calories: 169kcal | Carbohydrates: 2g | Protein: 12g | Fat: 12g | Saturated Fat: 7g | Polyunsaturated Fat: 1g | Monounsaturated Fat: 4g | Trans Fat: 1g | Cholesterol: 55mg | Sodium: 877mg | Potassium: 97mg | Sugar: 1g | Vitamin A: 319IU | Calcium: 79mg | Iron: 1mg