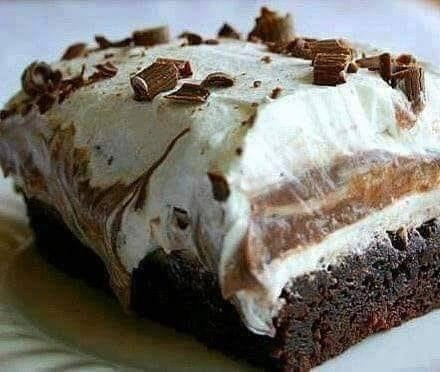 BROWNIE REFRIGERATOR CAKE!!!
Get ready to meet the best brownie dessert ever! This brownie cake is to die for, so much flavors in one dish! Check it out.
Simple and easy ! My whole family loves this recipe so much. If it were for them, I'd be making this every day! Give it a shot, you'll love it!To Make this Recipe You' Will Need the following ingredients:
You'll Need:
1 box of brownie mix.
1 extra large egg.
1 (8 oz) package of softened cream cheese.
1 cup of powdered sugar.
2 (8 oz) containers of whipped topping.
1 (3 oz) package of instant chocolate pudding.
1 (3 oz) package of instant vanilla pudding.
3 ½ cups of milk.
1 Hershey candy bar or chocolate syrup.
How to:
Prepare the brownie according to package instructions, stir in the egg and bake.
In a bowl, mix together the cream cheese, powdered sugar and 1 container of whipped topping.
Once the brownie is cold, place the mixture over it.
In a mixing bowl, blend the puddings and milk together and put on top of the cream cheese mixture.
Add a layer of whipped topping, top with chocolate shavings or chocolate syrup and refrigerate.
Bonne Appétit!
Simple, easy and yummy! I've made a lot of desserts before, but this one is unique! We all loved it so much and I'm sure you will love it too!