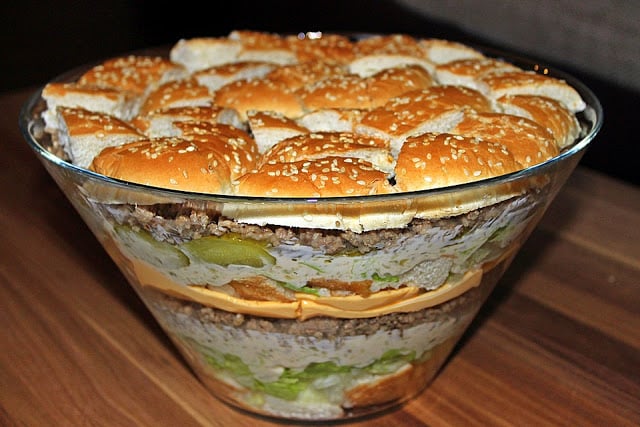 Ingredients:
6 hamburger buns with sesame
1 small iceberg lettuce
1 pack processed cheese slice(s) (Chester)
6 gherkin(s)
500 g minced meat, mixed
500 g minced beef
salt and pepper
For the sauce:
1/2 cup salad cream (Miracel Whip)
1/2 tube/s mayonnaise
6 tablespoons dressing (French dressing with a little dill)
8 tbsp gherkin(s), finely diced
2 tsp sugar
6 tbsp dried onion(s), finely diced
2 tsp vinegar
2 tsp tomato ketchup
1 tsp salt
2 tbsp sauce (cucumber relish, sweet and sour)
Preparation:
Mix all the ingredients for the sauce and microwave for 25 seconds. Then stir again briefly and leave to stand in the fridge overnight, the onions will rehydrate in the process.
Sear the minced meat, season with salt and pepper and leave to cool. Halve the hamburger buns, toast and cut into cubes approx. 2 x 2 cm. Reserve 4 lids for the top layer for the optics, dice these as well. Cut the iceberg lettuce into bite-sized pieces.
For the layered salad, first place 1/3 of the bun cubes in a large glass bowl. This is followed by half of the iceberg lettuce, the sauce and the meat.
Then a layer of cheese slices, the rest of the bun cubes (except for the last layer), the rest of the iceberg lettuce, the second half of the sauce, a layer of pickle slices, the second half of the meat. Finally, the bun lid cubes are placed on the salad so that the sides with sesame seeds are on top.