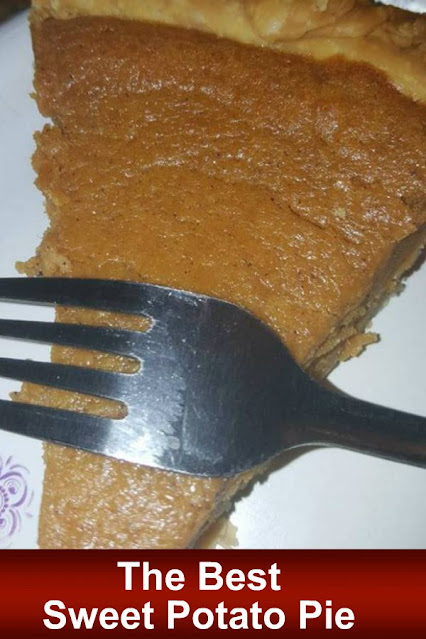 Best Sweet Potato Pie Recipe
Reviews for: Sweet Potato Pie
–
I was looking for a fast, easy, sweet potato pie to bake for a church function, and came across this one. I read about 50 of the reviews and decided it was the one I would make, but was surprised that not one of the reviews mentioned substituting canned sweet potatoes. I didn't have an hour to bake or boil the potatoes, so I used a 17.2 oz can of sweet potatoes instead of 1 pound of fresh. I didn't even warm them so they would be similar to the cooked, fresh sweet potatoes! I just opened the can, drained them, and threw them in the mixing bowl with the softened butter. I had to mix with electric mixer for a while until most of the lumps were out, but then just followed the recipe as written. I added just a little more milk since the can was a little over 1 lb. The pie was great, and saved me over an hour of prep time.
–
This was the first sweet potatoe pie I have ever made! I never liked the taste of sweet potatoe pies before, but my boyfriend said it was time I learned to make one. So I went looking for a good sounding one and this was the one I chose. It was DELICIOUS!!!!!! the only thing I did different than the original recipe was I mixed the sweet potatoe up by itself; before adding the butter, to get all the strings out of the sweet potatoe. My boyfriend had told me about the strings… otherwise I wouldnt have known about them either. It passed his taste test, along with mine. I would say it was a winner of a recipe. thank you for submitting it!!!!!
–
This is the absolute BEST recipe for a Sweet Potato Pie! I made this for Thanksgiving and 2 pies for Christmas! The flavor was outstanding, and the spices were perfect! The only thing I changed was that I added about 2 or 3 tablespoons of flour to the mixture. This addition was to help thicken the mixture. It's a little too loose if you don't add the flour. Don't be alarmed when the pie rises while baking; it'll fall when it cools. It's DELICIOUS!!!
The Best Sweet Potato Pie. Recipe for homemade pie filling with homemade flaky pie crust. Perfect Holiday dessert.
Ingredients
Filling:
2 unbaked 9-inch pie shells homemade or premade crust
2 large or 3 medium sweet potatoes
1/2 cup 1 stick butter or margarine softened
1 cup granulated sugar
2/3 cup (5 fluid-ounce) can evaporated Milk
2 large eggs beaten
2 tablespoons packed brown sugar
1 teaspoon lemon juice
1 teaspoon vanilla extract
1 teaspoon ground cinnamon
1/4 teaspoon ground nutmeg
1/8 teaspoon salt
Homemade Pie crust:
2 cups sifted all purpose flour
1 teaspoon salt
2/3 cup shortening
5 to 7 Tablespoons COLD water
Instructions
Filling:
Cook sweet potatoes in boiling water for 45 to 50 minutes or until tender. Drain, cool slightly and peel.
Preheat oven to 425° F.
Mash warm sweet potatoes and butter in large bowl. Stir in granulated sugar, evaporated milk, eggs and brown sugar. Stir in lemon juice, vanilla extract, cinnamon, nutmeg and salt. Pour into pie shells.
Bake for 15 minutes. Reduce heat to 350° F; bake for 30 to 40 minutes or until knife inserted near center comes out clean. Cool on wire rack for 2 hours. Top with whipped cream, if desired. Serve immediately or refrigerate.
Homemade Pie Crust:
Sift together flour and salt. Cut in shortening with pastry blender or blending fork until pieces are the size of small peas.
To make pastry extra tender and flaky, divide shortening in half. Cut in first half until mixture looks like corn meal. Then cut in remaining half until looks like small peas.
Sprinkle 1 Tablespoon of the water over part of the flour mixture. Gently toss with a fork; push to one side of bowl.
Sprinkle next Tablespoon water over dry part; mix lightly; push to moistened part at side. Repeat until all is moistened. Gather up with fingers; form into ball. ( For two crust pie, divide dough for upper and lower crust. Form each in ball.)
On a lightly floured surface; flatten ball sightly and roll 1/8 inch thick. If edges split, pinch together. Always roll dough from center to edge. Using light strokes.
To transfer pastry, roll it over rolling pin; unroll pastry over pie plate, fitting loosely onto bottom and sides. Trim 1/2 to 1 inch beyond edge; fold under and flute.
.Do NOT prick pastry.
Pour in filling and bake as directed above.
Recipe makes 2 pies