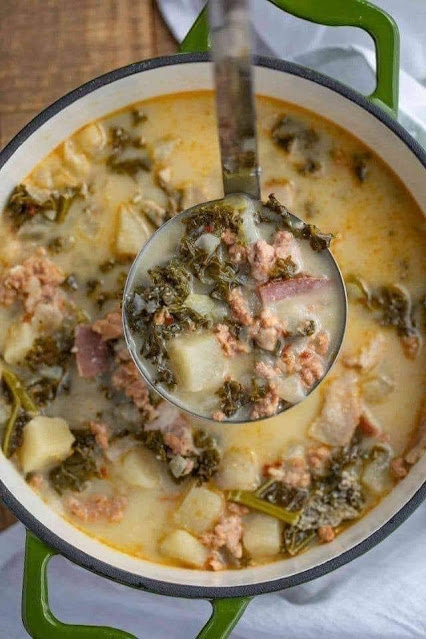 Best Olive Garden Zuppa Toscana Soup
Ingredients
1 pound spicy Italian ground sausage – use mild for kid-friendly
4 tablespoons butter
½ white onion – diced
1 tablespoon minced garlic
6 cups chicken broth
2 cups water
⅘ yellow potatoes – cut into 1-inch pieces
3 teaspoons salt – or to taste
1 teaspoon black pepper
2 cups heavy cream
4 cups chopped kale
chopped bacon or bacon bits and grated parmesan cheese for topping – optional
Instructions
In a large pot saute sausage for 5-6 minutes until browned. Use a slotted spoon to transfer sausage to a plate and set it aside.
In the same pot, add butter and saute onions over medium heat until translucent. Add garlic and saute for another minute until fragrant.
Add chicken broth, water, potatoes, salt, and pepper and bring to a boil. Boil until potatoes are tender. Stir in kale, and heavy cream. Add sausage. Taste and add salt and pepper if needed. Serve garnished with grated parmesan cheese if desired.
Notes
The sausage: if you have regular ground sausage, simply add 1 teaspoon dried Italian herb seasoning or Herbs de Provence + a pinch of crushed red pepper flakes.
Nutrition
Calories: 833 kcal, Carbohydrates: 16 g, Protein: 25 g, Fat: 76 g, Saturated Fat: 38 g, Trans Fat: 1 g, Cholesterol: 246 mg, Sodium: 3849 mg, Potassium: 1084 mg, Fiber: 1 g, Sugar: 2 g, Vitamin A: 8563 IU, Vitamin C: 110 mg, Calcium: 241 mg, Iron: 3 mg