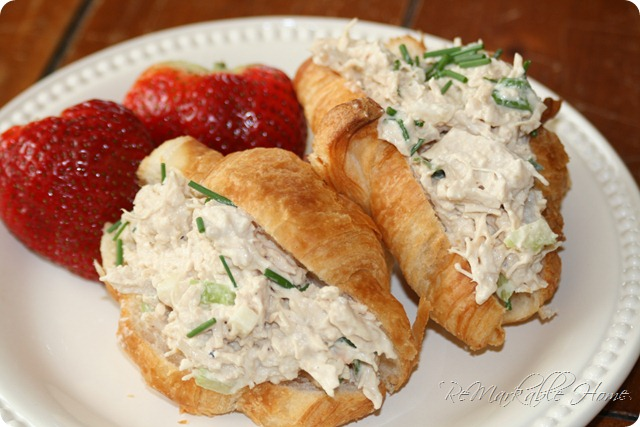 My husband loves this chicken salad, he's always asking me to make it. It's really good and refreshing, check it out.
You'll Need:
3

/

4

 pound(s) cooked skinless boneless chicken breast(s), cut into bite-sized pieces

1

/

2

 cup(s) uncooked celery, finely diced

1

/

3

 cup(s) unsweetened dill pickle(s), or sweet gherkins, finely diced

1

/

4

 cup(s) light mayonnaise
2 Tbsp reduced-fat sour cream
2 Tbsp fresh parsley, fresh, chopped
1 tsp Dijon mustard
1 tsp fresh lemon juice

1

/

2

 tsp table salt

1

/

4

 tsp black pepper, freshly ground
How to:
Place all ingredients in a large bowl; mix until blended. Yields about 2/3 cup per serving.
Simple, fresh and delicious! I personally serve this chicken salad with crackers or on lettuce. And I usually add dressing if the salad is to dry. Let me know what you think.
Servings: 6 • Serving Size: 2/3 cup • Points +: 3 pts • Smart Points: 3