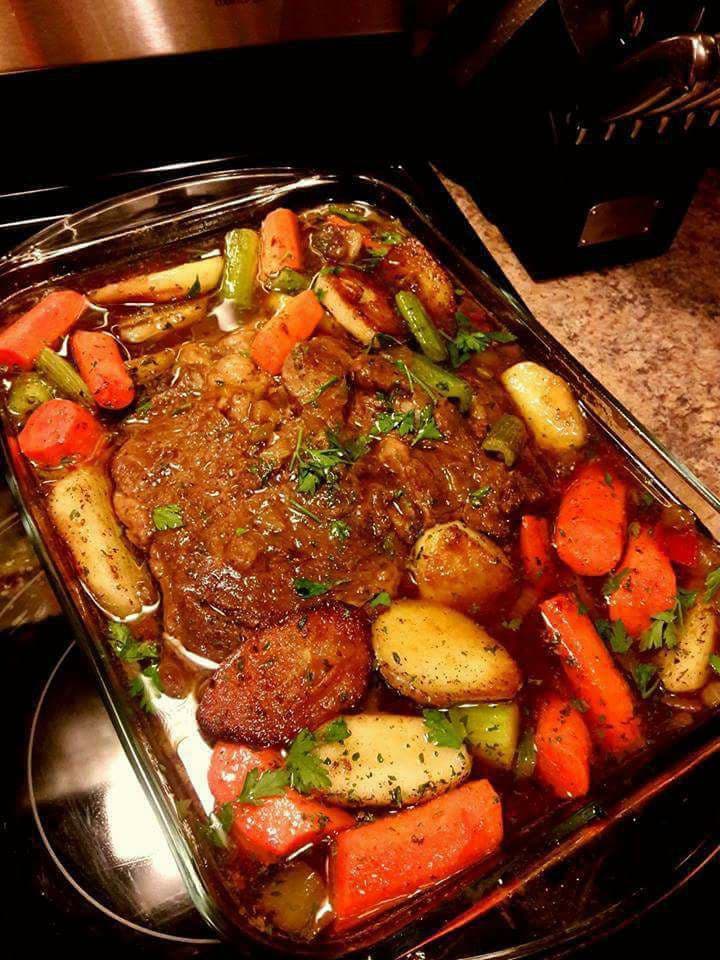 INGREDIENTS
3 pounds beef chuck roast, trimmed and cut into 2 inch cubes
3 tbsp olive oil
5 large cloves garlic, peeled and minced
2 medium onions, chopped
1 cup red wine
4 cups beef broth
2 tbsp tomato paste
2 tbsp balsamic vinegar, or red wine vinegar
1 large bay leaf
1/4 cup flour
2 tsp dried thyme
2 tsp salt, see note
1 tsp pepper
3 large carrots, sliced
1 lb baby potatoes
fresh parsley, minced – optional
DIRECTIONS
Preheat oven to 325°F. Set aside a 5-7 quart heavy ovenproof pot.
Pat dry the beef with paper towels, and cut into 2-inch cubes.
Place pot over medium-high heat. When hot, add 1 tbsp olive oil and enough beef to fit in a single layer with some space in between.
Let the meat brown for 2 minutes, then turn the pieces to brown for another 2 minutes. Remove to a plate, and repeat with remaining oil and beef.
Add the onions and garlic to the pan and sauté for 3 minutes using a wooden spoon and scraping the browned bits from the bottom of the pan.
Add the browned beef, red wine, broth, tomato paste, balsamic vinegar, flour, thyme, bay leaf, salt and pepper. Stir to combine.
Cover and place in the middle of the preheated oven to braise for 2 hours until the meat is tender and the sauce thickened.
Remove the pot from the oven and add the potatoes and carrots. Return to the oven for 30 minutes more.
Garnish with optional parsley.
Serve and enjoy!