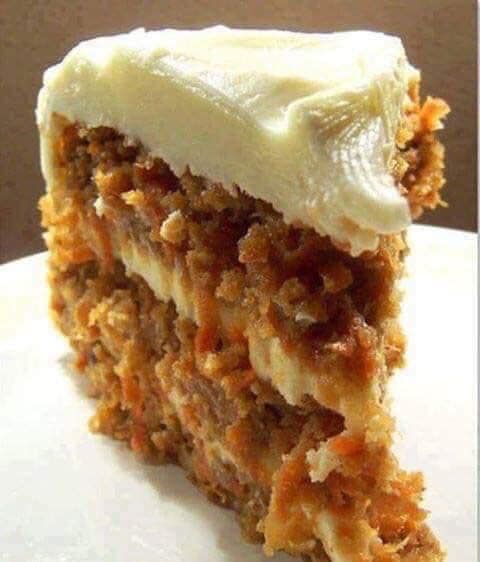 This moist, flavorful carrot cake will make guests swoon—and ask for seconds! Our best-ever recipe has three tender cake layers filled with chopped pecans, grated carrots, shredded coconut, and crushed pineapple. Our test kitchen found that two cups of grated carrots adds just the right amount of naturally sweet carrot flavor, without overwhelming the other ingredients. Be sure to grate the carrots using the large holes of a box grater for the perfect texture. Toasted pecans are also amp up the flavor in this recipe—don't skip this step. Also make sure your canned crushed pineapple is thoroughly drained so it doesn't water down the cake batter. What sets this recipe apart from other carrot cakes is our ingenious buttermilk glaze. Made with sugar, baking soda, buttermilk, butter, corn syrup, and vanilla extract, this syrupy, caramel-colored glaze keeps the cake layers extra moist and sweet. When the cake layers are baked and still warm from the oven, pour the glaze evenly over all three layers. It will soak into the cake as the layers cool.
Carrot cake isn't complete without a layer of luscious cream cheese frosting, and ours is a classic. Use full-fat cream cheese and sifted powdered sugar for the smoothest, richest results. Once the layers have cooled completely, remove them from the pans and assemble the cake with the cream cheese frosting. Then, prepare to be bombarded with compliments! This cake has earned rave reviews like "Best Carrot Cake in the World" and "Absolutely fabulous!" Reader Andra11 writes: "Made this yesterday for my husband's birthday. He said it was the best he's ever had. He doesn't usually ask questions about what I make but when he got home today he wanted to know everything that was in it. Reader Marblehead writes: "Everyone raved about this cake and told me it was the best cake I had ever baked, and I am known for my cakes!"
Ingredients
6 cups grated carrots
1 cup brown sugar
1 cup raisins
4 eggs
1 1/2 cups white sugar
1 cup vegetable oil
2 teaspoons vanilla extract
1 cup crushed pineapple, drained
3 cups all-purpose flour
1 1/2 teaspoons baking soda
1 teaspoon salt
4 teaspoons ground cinnamon
1 cup chopped walnuts
Directions
In a medium bowl, combine grated carrots and brown sugar. Set aside for 60 minutes, then stir in raisins.

Preheat oven to 350 degrees F (175 degrees C). Grease and flour two 10 inch cake pans.

In a large bowl, beat eggs until light. Gradually beat in the white sugar, oil and vanilla. Stir in the pineapple. Combine the flour, baking soda, salt and cinnamon, stir into the wet mixture until absorbed. Finally stir in the carrot mixture and the walnuts. Pour evenly into the prepared pans.

Bake for 45 to 50 minutes in the preheated oven, until cake tests done with a toothpick. Cool for 10 minutes before removing from pan. When completely cooled, frost with cream cheese frosting.