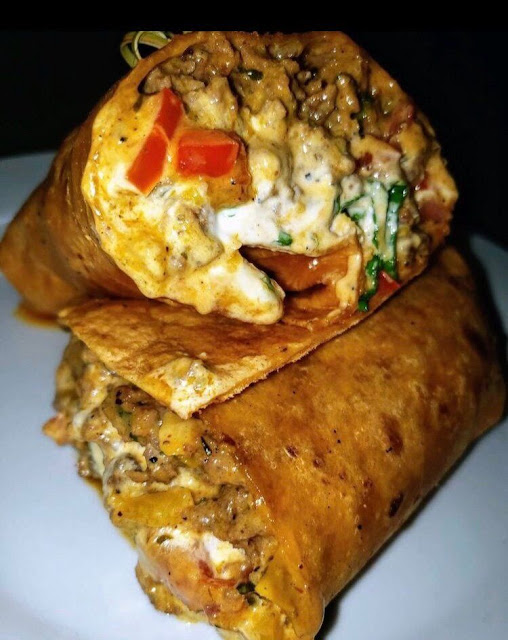 A Large tortilla filled with queso, taco beef, a tostada shell, sour-cream, fresh lettuce, tomato, cilantro, and cheese. This cheesy taco/burrito hybrid packs a ton of flavors & crunch!
Ever since I had one of these crunchwraps at Taco-Bell a few months ago, I just couldn't get enough. This hybrid of a tostada/taco/burrito is one of the best examples of a great spin on Mexican food!
This wrap is named the supreme CrunchWrap for a good reason and it sure does live up to its name. Just imagine layers of queso, taco spiced beef, a crunchy tostada shell in the middle and refreshing lettuce, tomato, cilantro and a sprinkle of lime. These Crunch Wraps are extremely delicious and worth every calorie!
Ingredients
1

 

lb

 

ground beef

1

 

packet taco seasoning mix

1/4

 

cup

 

water

1/2

 

cup

 

queso or nacho cheese dip

6

 

Large burrito-size flour tortillas

 

10 or 12 inch

6 to

 

stada shells or corn tortillas

 

see note

1/2

 

cup

 

sour cream

2

 

cups

 

shredded lettuce

1 to

 

mato

 

diced

1/4

 

cup

 

minced cilantro

juice of 1 lime

1

 

cup

 

shredded Mexican cheese blend
Instructions
Heat a large skillet to medium/high heat for 2-3 minutes. Add beef to skillet and cook and crumble the ground beef until no longer pink; Drain grease. Stir in the taco seasoning mix and water and allow mixture to simmer for 10 minutes.
On a clean flat surface, lay one flour tortilla on a flat surface. Spread about 2 tablespoons of queso on the center of tortilla, Top with about 1/2 cup of taco meat. Top the meat with 1 tostada, Spread a thin layer of sour cream over the tostada shell. Top with lettuce, tomato, cilantro, a sprinkle of lime and shredded Mexican cheese.

To fold the crunch wrap, start with the bottom of the flour tortilla and fold the edge up over the center. Continue to work your way around, folding the flour tortilla over the center fillings. If there is a spot left open in the center, cut a piece of another flour tortilla and tuck it in the center, so it's fully covered. Repeat with all remaining tortillas, tostadas and fillings.

Heat a medium non-stick pan to medium heat; pray with cooking spray or drizzle with a light layer of oil. Place one crunch-wrap seam-side down onto the skillet. Cook for 2 – 3 minutes per side or until golden-brown and crunchy. Repeat process with all crunch-wraps. Serve hot!