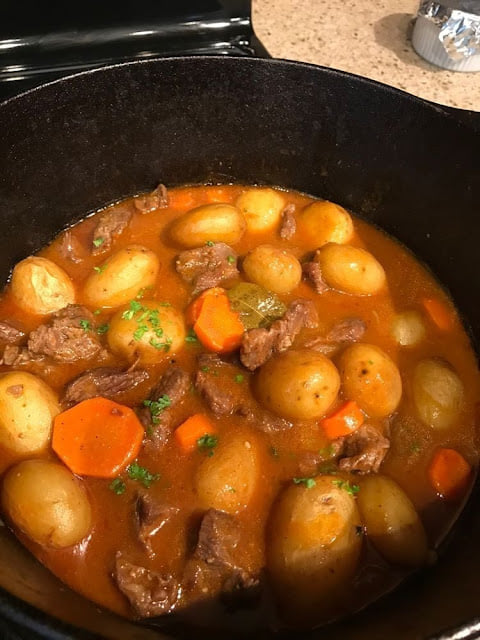 What could be more comforting than a dish simmered for a long time by the fire to escape the cold of winter. This beef stew has it all, not only is it good but it's also an affordable dish for the whole family.
++6 persons
° 800 g of beef for braising
° 4 potatoes
° 2 carrots
° 2 cloves garlic
° 1 onion
° 50 cl of beef broth
° 50 cl of water
° 10 cl of red wine
° 4 tbsp. to s. of flour
° 2 tbsp. to s. olive oil
° Fresh parsley
° 2 stalks of celery
° 1 sprig of thyme
° 1 bay leaf
Preparation: 20min
Cooking: 2h
1
Cut your meat into cubes and pass it in two spoons of flour placed on a plate. Add salt and pepper.
2
Heat oil olive in casserole dish on medium heat. Sauté the pieces of beef that should brown on all sides, then set aside on a plate.
3
In the same casserole dish, brown the chopped onion for 2 or 3 minutes. Add the chopped garlic, sliced ​​carrots and chopped celery. Mix then pour in the wine to deglaze the casserole dish (this allows you to recover all the meat juices stuck on the walls). Pour in the flour and turn.
4
Add the meat to the casserole dish, the broth, water, thyme, bay leaf, salt and pepper. Bring to a boil then lower the heat and simmer, covered, for 90 minutes.
5
Add the washed, peeled and cut into 4 potatoes. Cover and simmer for another 30 minutes. The potatoes must be cooked. Adjust the seasoning if necessary. Serve hot, sprinkled with chopped fresh parsley.
Enjoy !!!