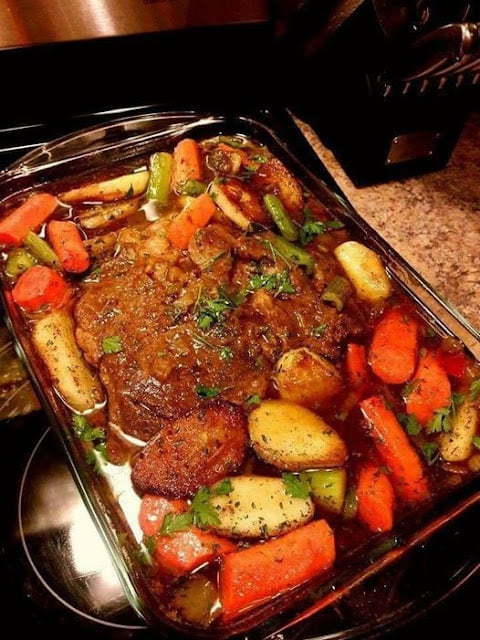 What could be more comforting than a good beef stew with savory thawed carrots, potatoes, onions, thyme and bay leaf…a treat everyone would agree with, especially when it's hot and cold outside. Be careful, cook it in advance because this good little dish should cook slowly but surely, according to the rules of art, because everything comes right for someone who knows how to wait. Try this recipe, savor this enveloping aroma of stewed beef that brings home to life, and indulge yourself!
* Ingredients: 4 people.
° 1 kg of cooked beef (scooter, breast…)°
01 kg carrots°
600 grams of potatoes°
1/2 liter of red wine°
50 gm butter°
2 large onions°
1 spray olive oil°
1 sprig of thyme°
2 bay leaves°
Salt, freshly ground pepper
* Preparation:
1.Start by peeling the onion and then chopping it fine. Salt the meat with pepper and cut it into medium-sized cubes to facilitate the cooking process. Then fry it with onion slices in a casserole dish previously heated with butter and preferably sprinkled with olive oil. For perfect cooking, the pieces of meat should be colored evenly on each side.
2.Peel and cut the carrots into slices of medium thickness. Add the pieces to the meat mixture and let simmer for a few minutes, stirring regularly.
3.Wine is added to sweeten the casserole dish. Remember to stir the bottom well with a wooden spoon to recover all the cooking juices and aromas.
4.Peel the potatoes and cut them into four pieces. You can make more pieces if the potatoes are large. Add it to the casserole and cover everything with water. Salt and pepper to taste, then add the bay leaf and thyme in a sprig.
5.Simmer the beef and carrot broth over low heat for 3 hours. Her feet are hot…
Enjoy !