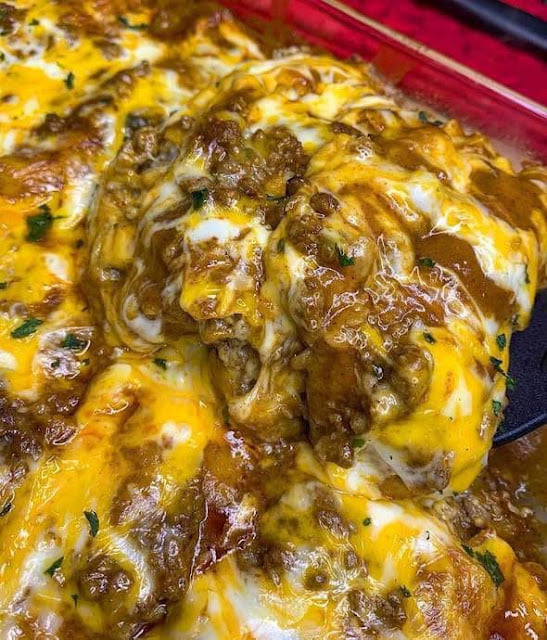 These 5-ingredient enchiladas are about to make meals a lot easier! With affordable ingredients like ground beef and quick, no-rolls prep technology, this delicious casserole recipe is both smart and healthy. The enchiladas will be oven-ready in just 20 minutes so you can quickly get back to your activities, and a handful of melted cheese on top will keep even the pickiest of people happy. If that wasn't quick enough, we've also included prep instructions, so you can cook it straight from the fridge on your busiest evening.
Ingredients :
°1 package (8 units) Old El PasoTM large flour tortillas (20 cm [8 in))
°1 pound (500 g) lean ground beef
°1 1/2 cups (375 ml) light enchilada sauce
°2 cups (500 ml) black bean or corn sauce
°2 cups (500 ml) shredded Mexican cheese mix
1
Preheat the oven to 175°C (350°F). Spray a 33 by 23 cm (13 by 9 inch) 3-quart (2.85 L) baking dish with cooking spray.
2
Fold 8 8-inch Old El Paso™️ flour tortillas in half and place folded side down on the plate; Put aside.
3
In a 25 cm (10 in) nonstick skillet, cook 500 g (1 lb) lean ground beef over medium-high heat and salt to taste, stirring frequently until no more pink; instillation; Transfer the quinoa to a large bowl. Add 1/4 cup (60 ml) of sweet enchilada sauce, black bean or corn sauce, and 1 cup (250 ml) of the grated Mexican cheese mixture; stir to combine.
4
Divide the meat mixture evenly among the tortillas. Wrap the tortilla around the filling, sealing side down.

5
Pour the remaining light enchiladas sauce and the remainder (1 cup [250 ml]) of the four grated Mexican cheese mixture over the enchiladas. Spray a piece of aluminum foil large enough to cover the baking dish with cooking spray. Cover a baking dish with tin foil, and sprinkle it face down.
6
Bake for 40 to 45 minutes or until completely heated through and boiling.
7
To freeze: Spray 2 cake pans (20 cm [8 in)] with cooking spray. After covering the molds with greased aluminum foil, place them in 1-gallon (4.5 L) plastic resealable frozen bags or wrap them in a double layer of plastic wrap. Label and freeze. To bake in the oven: Defrost overnight in the refrigerator. Preheat the oven to 175°C (350°F). Remove the plastic wrap and place the foil-covered molds on a cookie sheet. Bake for 35 to 40 minutes or until the instant-read thermometer inserted in center reads 75°C (165°F). If you are cooking the dish without defrosting, cook it for 1 hour, then remove the tin foil and cook for 10 to 15 minutes.
Enjoy !