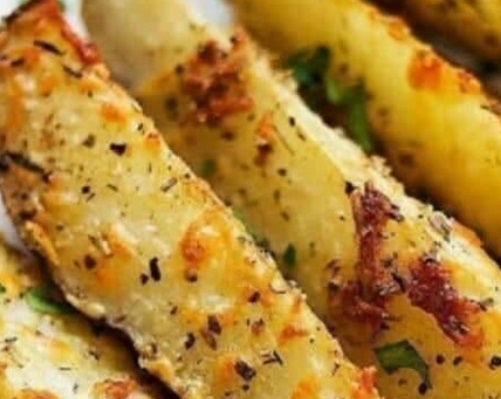 Baked parmesan garlic potato wedges recipe!!!
Baked Parmesan Garlic Potato Wedges are so incredibly easy and have the best parmesan garlic cheese flavor! These crispy wedges are roasted to perfection and guaranteed to be a huge hit!
Get ready to dip these wedges in all the favorite sauces you love! Crispy Garlic Avocado Fries (Baked), Parmesan Herb Asparagus Fries with Creamy Greek Yogurt Ranch or Baked Zucchini Fries are a few other healthy fries to try!
Simple and easy ! My whole family loves this recipe so much. If it were for them, I'd be making this every day! Give it a shot, you'll love it!To Make this Recipe You' Will Need the following ingredients:
INGREDIENTS
3-4 large russet potatoes sliced into wedges
4 tablespoons olive oil
2 teaspoons salt
2 teaspoons garlic powder
2 teaspoons Italian seasoning
½ cup shredded parmesan cheese
optional: fresh parsley (or cilantro) ranch or blue cheese dressing for dipping
INSTRUCTIONS
Preheat oven to 375. Lightly grease a large baking sheet and set aside.
Place potato wedges in a large bowl. Drizzle with olive oil and toss to coat. In a small bowl whisk together salt, garlic powder, and Italian seasoning. Sprinkle potato wedges with the shredded cheese, tossing to coat, then sprinkle with the seasoning mixture.
Place potato wedges on prepared baking sheet in a single layer with skin-sides-down. Bake for 25-35 minutes until potatoes are fork-tender and golden. Sprinkle with freshly chopped parsley and dressing for dipping.