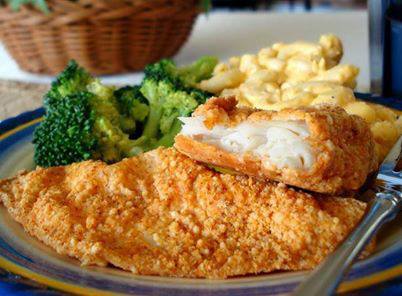 What you will need:
Servings: 4
16 ounces fish fillets
1 egg
2 tablespoons milk
Breading:
1/3 cup parmesan cheese, grated
2 tablespoons flour
1/2 teaspoon paprika
1/4 teaspoon salt
1/8 teaspoon pepper
How to Make It:
-Beat egg and milk in a shallow bowl and set aside. In a zipper bag combine breading ingredients.
-One at a time dip fillets in egg, shake off excess and turn or shake in breading in bag.
-Bake uncovered on an oiled baking sheet at 350 degrees for about 25 minutes or until fish flakes easily with a fork.
-Can be served with lemon wedges if desired.