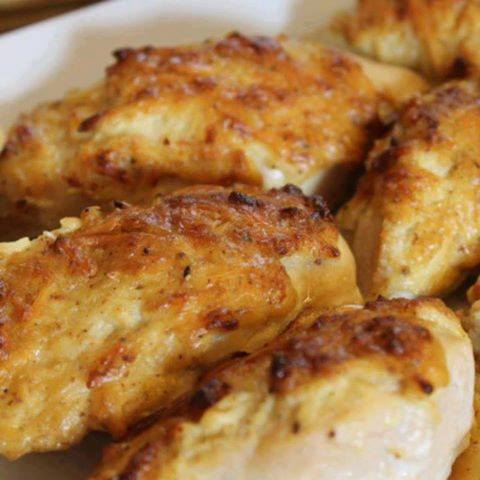 iNGREDIENTS
2/3 c mayonnaise
1/4 c freshly grated Parmesan cheese
1/2 c seasoned bread crumbs, finely crushed
1-1/2 tsp. seasoning salt
1/4 tsp. freshly ground black pepper
1 tsp. granulated garlic or garlic powder
1/2 tsp. mustard
1/2 tsp. soy sauce
4 skinless, boneless chicken breasts
Preheat oven to 375. Spray a baking dish large enough to hold the chicken in a single layer.
In a medium sized bowl, mix all ingredients except chicken until blended. Coat top and sides of the chicken with the mayonnaise mixture and place in prepared baking dish.
Bake for 30-35 minutes or until deep golden brown and juices run clear when chicken is pierced.