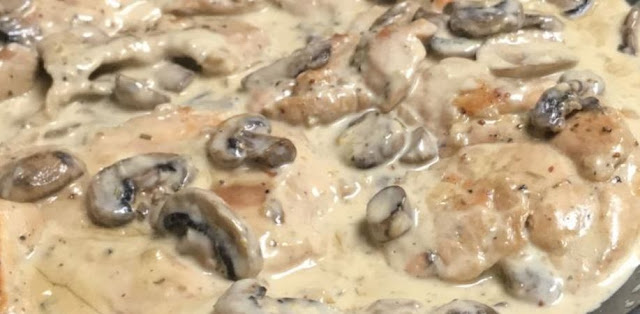 BAKED CHICKEN-FRIED STEAK WITH MUSHROOM GRAVY
Prep Time: 15 mins | Cook Time: 1 hr 20 mins | Total Time: 1 hr 35 mins | Yield: 6 Servings
The sauce alone of this dish will surely satisfy all your cravings today! Oh, man, you are so in for a treat! Feel free to modify this recipe to your liking. Enjoy!
Ingredients:
1 c peanut or vegetable oil, for frying
6 (4 ounces) cube steaks
⅔ c finely diced onion
1 c all-purpose flour
½ (10.75 ounces) can water, or as needed
1 (10.75 ounces) can of condensed cream of chicken soup
1 pinch seasoned salt, or to taste
1 pinch garlic powder, or to taste
1 pinch black pepper, or to taste
2 (4.5 ounces) cans sliced mushrooms with juice
Directions:
Prepare the oven and preheat to 175 degrees C or 350 degrees F.
Apply cooking spray in a 9×12-inch baking dish.
Sprinkle flour in a shallow dish.
Add the steaks into the flour and toss until well coated. Shake off any excess.
Place a skillet on the stove and turn the heat to medium.
Add peanut oil and allow it to become hot.
Add the steaks and fry each side for about 5 minutes or until they turn golden brown.
Arrange 3 fried steaks to the bottom of the greased baking dish.
Sprinkle garlic powder, salt, and pepper over the steaks.
Arrange 1/3 cup of onion slices on top of the steaks.
Repeat the process until everything is arranged in layers.
Add the condensed milk into a mixing bowl.
Add the drained canned mushrooms into the bowl with the soup. Stir until well mixed.
Pour the mixture on top of the steaks and spread it evenly.
Cover the baking dish and bake the steaks for about 30 minutes.
Turn the heat down to 300 degrees F, then bake for another 30 minutes or until the texture of the gravy becomes thick.
Serve and enjoy!