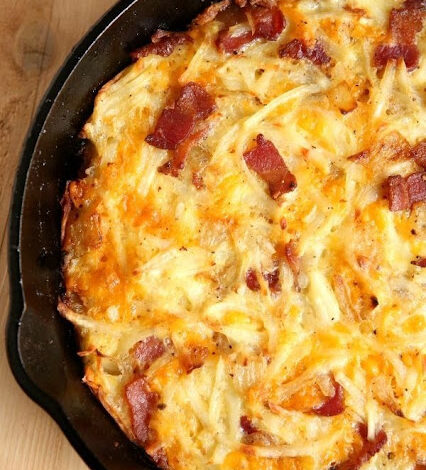 Are you in search of a mouthwatering breakfast recipe that combines the goodness of bacon, eggs, and crispy hash browns? Look no further! In this article, we'll take you through the steps to create a delectable dish of Bacon Egg & Hash Brown that will surely satisfy your morning cravings.
Before diving into the cooking process, let's gather all the essential ingredients for our Bacon Egg & Hash Brown:
| Ingredient | Quantity |
| --- | --- |
| Bacon (chopped) | 1/2 lb |
| Medium Onion (chopped) | 1/2 cup |
| Frozen Country-Style Shredded Hash Browns | 30 oz (thawed) |
| Grated Cheddar Cheese | 2 cups (8 oz) |
| Grated Parmesan | 1/4 cup |
| Large Eggs | 9 |
| Milk | 1 1/4 cups |
| Sour Cream | 8 oz container |
| Salt | 1 teaspoon |
| Ground Mustard | 1 teaspoon |
| Pepper | 1/4 teaspoon |
| Cornflake Crumbs or Panko Crumbs | 1/2 cup |
| Butter or Margarine (melted) | 2 tablespoons |
Instructions:
Step 1: Preparing the Ingredients
Heat your oven to 350°F and spray a 13 × 9 inch (3 quart) glass baking dish with cooking spray.
In a 10-inch skillet, cook the chopped bacon and onions on medium-high heat for about 10 minutes, stirring occasionally, until the bacon turns crispy, and the onions become tender. Drain the mixture on paper towels.
In a large bowl, combine the bacon-onion mixture with the thawed hash browns and the grated cheddar and parmesan cheese. Pour this mixture into the prepared baking dish.
In the same bowl, beat the large eggs, milk, sour cream, salt, ground mustard, and pepper until well blended. Pour this mixture over the potato mixture in the baking dish.
Bake the casserole uncovered for 35 minutes.
Step 2: Adding the Crispy Topping
In a small bowl, combine the cornflake crumbs (or panko crumbs) with melted butter. Sprinkle this mixture evenly over the casserole.
Continue baking for an additional 10 to 15 minutes, or until the topping becomes golden and crispy.
In conclusion, Bacon Egg & Hash Brown is a breakfast masterpiece that combines savory flavors and delightful textures. Whether you're looking for a hearty weekend breakfast or a crowd-pleasing brunch option, this dish has you covered. Don't hesitate to get creative with your ingredients and make it your own!
Now, it's time to whip up this delicious breakfast treat and savor every mouthful. Enjoy your Bacon Egg & Hash Brown adventure!