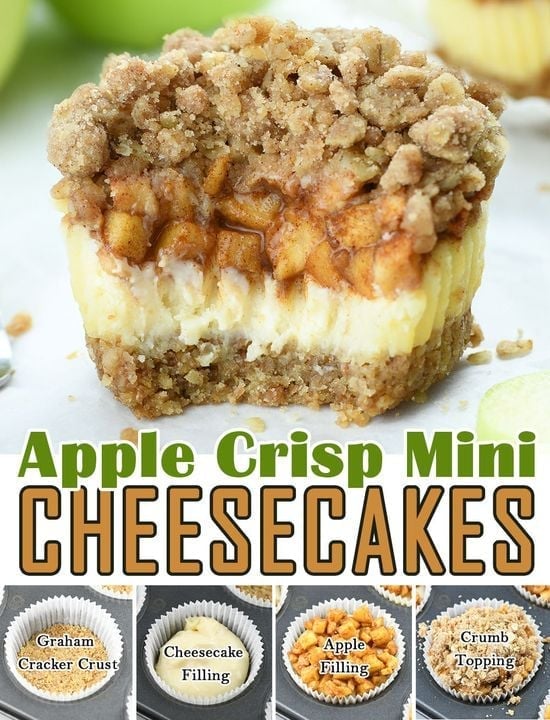 Apple Crisp Mini Cheesecakes
Ingredients :
Graham Cracker Crust:
3/4 cup graham cracker crumbs
1 and 1/2 Tablespoons sugar
1/2 teaspoon cinnamon
3 Tablespoons unsalted butter-melted
Crumb Topping:
1/3 cup all-purpose flour
1/3 cup light brown sugar
1/3 cup quick cooking oats
3/4 teaspoon cinnamon
1/8 teaspoon nutmeg
2 and 1/2 Tablespoons unsalted butter-melted
Apple Filling:
2 medium-small apples-peeled and chopped finely
2 teaspoons freshly squeezed lemon juice
1 and 1/2 teaspoons cinnamon
1/4 teaspoon nutmeg
2 Tablespoons light brown sugar
1 and 1/2 teaspoons corn starch
Cheesecake Filling:
10 oz. cream cheese-softened
6 Tablespoons sugar
1 and 1/2 teaspoons vanilla
2 teaspoons all-purpose flour
1 egg
Caramel sauce-for serving
Instructions :
Line standard cupcake pan with paper liners (this recipe makes 9 cupcakes).
Preheat the oven to 325 F.
Using a fork stir together graham cracker crumbs with cinnamon and sugar. Add melted butter and stir well. Press almost 2 Tablespoons of mixture into the bottom of paper liner and place in the fridge.
To make the topping, stir together all purpose flour, light brown sugar, quick cooking oats, cinnamon and nutmeg. Add melted butter and stir until coarse crumbs form. Place in the fridge until ready to use.
For cheesecake filling, beat softened cream cheese with sugar, vanilla and flour. Add egg and mix just to combine. Spoon the filling over the crusts (fill about 2/3 paper cup full).
Toss chopped apples with lemon juice. Add light brown sugar, corn starch, cinnamon and nutmeg and stir well. Spoon apples over cheesecake filling to fill the cups almost to the top. Gently press the apples with your palm.
Finally, generously sprinkle cinnamon oat crumbs on top.
Bake about 28-30 minutes.
Cool 30 minutes in the pan, then remove from the pan and store in the fridge.
For serving, drizzle with caramel sauce.
Enjoy it !!!