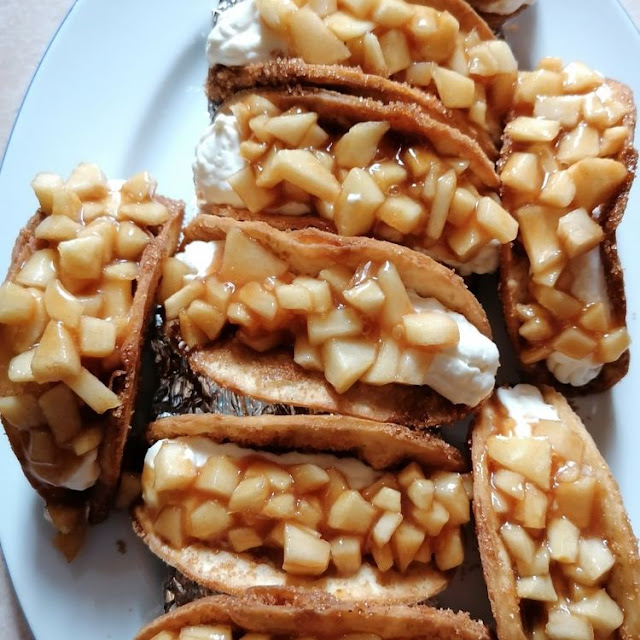 Apple Cheesecake Tacos – crunchy cinnamon sugar tortilla shells, filled with cheesecake filling and covered with homemade apple pie filling are simply perfect. This very tasty dessert is ideal for upcoming fall days.
Apple Cheesecake Tacos are eaten in a couple of bites and they look so fancy. This recipe is perfect for apple season, but you can prepare it anytime you wish a good apple treat or to smell apples and cinnamon.
Instead of homemade apple filling, ready – made apple pie filling can be used. However, I recommend homemade apple sauce.
Shells are made from tortillas, they´re fried in deep oil and coated in the mixture of brown sugar and cinnamon.
Cheesecake filling is made of cream cheese, heavy cream, vanilla and powdered sugar.
Homemade apple sauce is so aromatic, since it´s made of apples, cinnamon, nutmeg, brown sugar, corn starch, water and vanilla.
INGREDIENTS
CINNAMON SUGAR TORTILLA SHELLS
6 Large Flour tortillas
½ Cup Brown sugar
1½ teaspoon Cinnamon
Oil for frying
CREAM CHEESE FILLING
8 oz Cream cheese
1 Cup Heavy cream
¼ Cup Powdered sugar
1 teaspoon Vanilla extract
HOMEMADE APPLE PIE FILLING
2 large Apples, diced
½ tsp cinnamon
⅛ cup cornstarch
⅓ cup brown sugar
1 cup water
⅛ tsp nutmeg
½ tsp vanilla extract
INSTRUCTIONS
TO MAKE CINNAMON SUGAR TORTILLA SHELLS – Combine brown sugar and cinnamon in a bowl and set aside. Using 3.5-4 inch circle cutter, cut circles from tortillas.
Heat 1 inch oil in a pan, the temperature should be medium. Put tortilla circles, using tongs, in the oil and fry for about 10-15 seconds, then turn the circles on the other side, fold them in half and fry until they become golden brown. Take them out of the pan and wait for a couple of seconds for the extra oil to drain, then immediately put in the bowl with sugar and cinnamon. Cover the shells completely with this mixture. Put some of the mixture inside of the shell, as well.
Finally, place them on the upside down muffin tin. Repeat the same procedure with the rest of the circles.
TO MAKE HOMEMADE APPLE PIE FILLING – In a medium size dish, pour water, add cornstarch, brown sugar, cinnamon, nutmeg and cook for about 2-3 minutes, at medium heat, until it thickens, stirring from time to time.
Add apples and vanilla extract and cook for 10 minutes, or until the apples soften. Remove from heat and let cool at a room temperature.
TO MAKE CHEESECAKE FILLING – Beat cream cheese, heavy cream, powdered sugar and vanilla extract for 2 minutes, using medium speed, until it thickens.
Put the mixture into a piping bag and cut off the peak. Fill the shells with cream cheese filling and put apple pie filling on top of it.