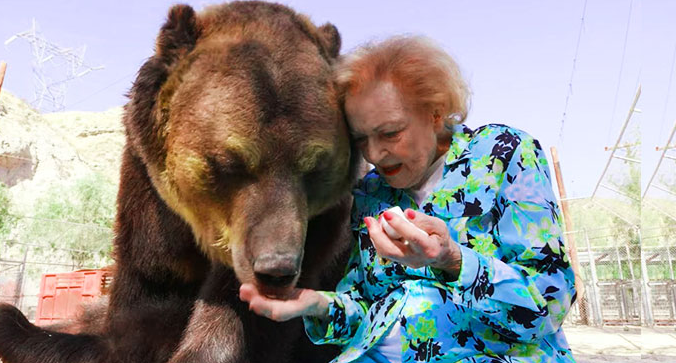 99-year-old Betty White shares lovely moment with giant brown bear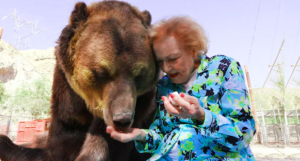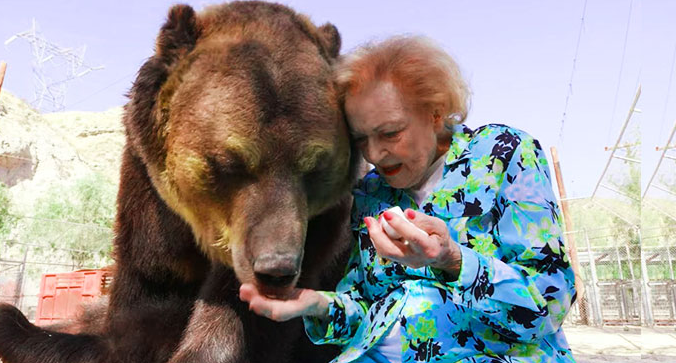 Some people devote their lives to animals. They consider animals as a part of themselves. Their affection towards animals did not decrease even after they have reached old age.
The same is the case of Betty white who recently celebrated her 99th birthday. She looks stronger and happier than ever. In order to prove that age is just a number, the actress posed next to a massive bear and she even kissed the bear.
Though Betty is a famous comedian, she is also known for her love for animals. Her kindness and love towards animals had made her one of the most notorious animal rights advocates. She volunteered for the Los Angeles Zoo and the Morris Animal Foundation for over 40 years.
Betty has a great love for all the animals- be it a puppy or a massive bear. The 99-year-old lady recently became everyone's favorite when she shared an adorable moment with one of the Los Angeles Zoo's residents- a brown bear named Bam Bam.
It actually shows the love of a human and a massive bear can share. But Betty admitted that she was really confused at first.
She said that it was the scariest thing she had ever done and it was really funny stuff. She further stated that she was actually very lucky to have experienced it. She said that she has dedicated half of her life to her work which she loved and the other half to working with animals.
Betty is known to be a charming person with the kindest heart. According to her friend Tom Sullivan, she had a far closer relationship with animals than she had with people.
Celebrities advocating animal rights set a good example for common people to follow.