40-year-old retired racehorse and a 58-year-old man give each other a reason to live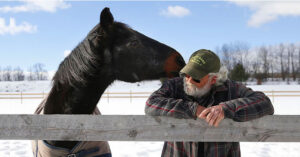 It is said that a dog is a man's best friend. Yes, it is right. But every animal is special and they can give us company.
Like Donnie MacAdam, his horse is his best friend and he likes to spend time with him. Waco Hanover was a popular racing purebred and now he is retired. He likes to spend time with his best human friend Donnie.
Though Donnie works in a state information center in Vermont yet he likes to spend time with his bestie, Waco. Even his apartment is above the stable so the two could be considered roommates.
At his workplace, Donnie deals with a lot of people but he stills yearns to spend time with his best friend, Waco. For the past 8 years, he is completely devoted to Waco.
Donnie even credits Waco for curing him of his heart attack. In 2008, when Donnie first met Waco, at that time the horse has lost its appetite and Donnie felt that the horse would not make it through the winter.
But later he found that the horse was not sick, he was just lonely. He is actually a tough old horse. The two love to spend time with each other and eat animal crackers.
Donnie is even given the credit to make the horse live these many years as Waco celebrated his 40th birthday in 2017 and that is equal to 120 human years.
Donnie remembered how the horse used to put his head on his shoulders and calm him down. Sadly the horse passed away in 2019 at the age of 42.
Donnie paid tribute to the horse calling him his best friend, therapist. He even added that he never thought that a horse would become such a good companion.
Animals provide us with such good company that we can't even imagine. Waco was an incredible horse. Donnie is going to miss him a lot.