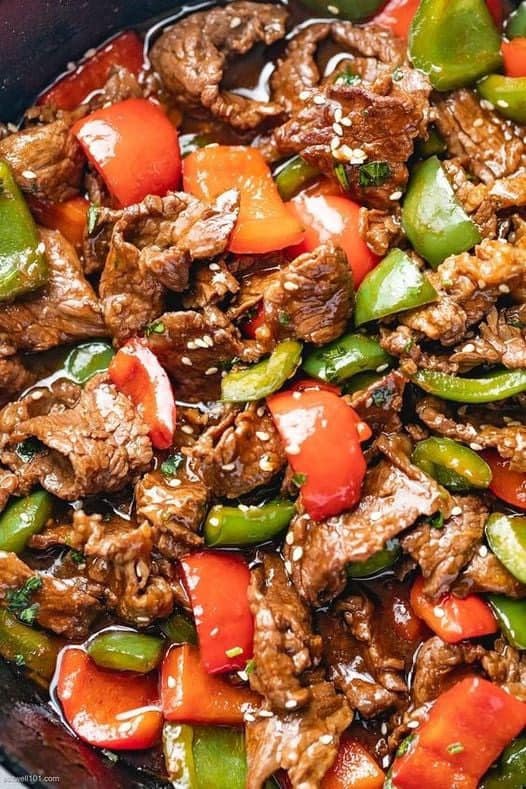 15-Minute Pepper Steak Stir-Fry
15-Minute Pepper Steak Stir-Fry
INGREDIENTS
8 oz (225g) flank steak, thinly sliced against the grain
2 tablespoons olive oil, divided
1 red bell pepper, cut into 1-inch cubes
1 green bell pepper, cut into 1-inch cubes
3 garlic cloves, minced
1/4 cup brown sugar
1/2 cup low sodium soy sauce
2 teaspoon sesame oil
1 teaspoon ground ginger
1 tablespoon Sriracha (or your favorite hot sauce)
1 tablespoon cornstarch
DIRECTIONS
To make the pepper steak stir-fry: In a small bowl, whisk the garlic, brown sugar, soy sauce, sesame oil, ginger, Sriracha, and cornstarch.
In a skillet over medium-high heat add 1 tablespoon olive oil. Add the diced bell peppers and cook 1-2 minutes until tender. Remove the bell peppers and set aside on a plate.
Turn the heat to high and add the flank steak on one layer and cook on each side to sear the beef and reduce heat to medium-high and continue to cook until no longer pink and brown on each side.
Add the peppers back to the skillet and add the sauce. Simmer for 1-2 minutes until the sauce starts to thicken. Sprinkle with chopped cilantro and sesame seeds. Serve the pepper steak stir-fry over rice, rice noodles, or cauliflower rice. Enjoy!