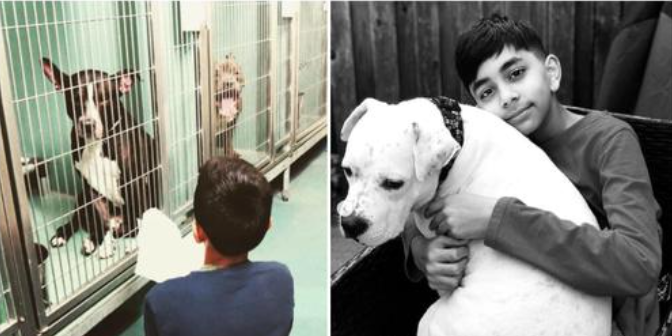 11-year-old named ASPCA's 'Kid of the Year' for reading to shelter dogs and helping them find homes
It's always inspiring to see people volunteer their time to help animals, but it's even more inspiring when it's a child. It's heartwarming to see kids develop such a compassion for animals from such a young age.
Like one 11-year-old, who has found inspiring and unique ways to help shelter dogs — and now he's been honored as the ASPCA's "Kid of the Year."
Evan Bisnauth, from the Bronx, New York, is passionate about helping dogs. According to NBC New York, his mission began in 2019 after he and his mother contacted Animal Care Centers of NYC after finding a dog tied to a fence.
View this post on Instagram
He started volunteering at the shelter, visiting and spending time with the dogs. "When I meet up with them they're very scared and they feel very vulnerable," Evan told NBC. "But I try to help them feel like we're just trying to help them. I like to sit with them and talk with them."
He even found his own special way of comforting the dogs: reading to them. Reading out loud to dogs can help socialize them, getting them used to human interaction and making it easier for them to get adopted.
"I actually first read to my own dog when I was learning to read and write in school," Evan told Today.
View this post on Instagram
"The story is about a dog that was placed into the shelter and got adopted," Evan said. "I like reading that to the dogs because when I'm done reading the book I'm like, 'You will get adopted. Now I have hope for you.'"
View this post on Instagram
Due to the COVID-19 pandemic, Evan couldn't visit the dogs — but he found another creative way to help them right from his own home.
He started making animated shorts, showcasing the shelter dogs to help them find their forever homes. "I needed to find a fun way to showcase the dogs and put them in a positive light," Evan told Today. "I started animating them doing all the fun things dogs like to do to get people to picture them as a part of their family."
View this post on Instagram
"I couldn't be there, but I could get them the exposure they need," he told NBC New York. "I like to get the animals some exposure and help them get adopted."
While its a thankless job, Evan did receive a great honor for his hard work helping to get these dogs adopted.
The ASPCA unveiled the recipients of their 2021 Humane Awards, and Evan was named "Kid of the Year" in honor of his volunteer work.
View this post on Instagram
"Evan Bisnauth leads a busy life in the Bronx, but he doesn't let his many interests—or even a pandemic—deter him from his primary passion: helping socialize adoptable dogs at Animal Care Centers of NYC (ACC) by reading to them regularly," their press release says.
"Always eager to help animals in need, Evan also creates amusing animations of ACC's adoptable animals to help them get attention and ultimately be placed in safe and loving homes."
Evan told NBC that he would like to open up his own rescue organization one day, but also would like to work for NASA.
He also said that while the award from ASPCA is an honor, he's far from finished when it comes to helping animals.
"It makes me feel really good … but it also makes me want to do so much more," he told Today.
"I just want people to know that shelter dogs are not bad dogs. They are just looking for good people. And to all the kids out there, you are never too small to make big changes."
Thank you to Evan for doing so much to help these shelter dogs get adopted, and congrats on the honor! You're an inspiration to young people everywhere.
Share this heartwarming news!